DESCRIPTION
---
Our Candlewick offers the rigidity of zinc without the metal wire. This product line gives candle makers their independence from using zinc core wicks. This is an all fibre wick. It has the rigidity of zinc core without any wire or paper in the core.
The core is a specially treated fibre that completely consumes. Since the core of this advanced wick consists of fibres and not metal, it does not leave behind the unsightly metal wire protruding from the flame as it burns.
The wick stays straight during the candle fill and more importantly during the burn. This wick is an excellent choice for container candles.
FEATURES & BENEFITS
---
Rigidity in the filling process
100% Fiber wick construction
Great alternative to Zinc Core wick
Patented open construction
Unmatched consistency spool to spool and batch to batch
BURN RATE CHART
---
Our wick size description is very "user friendly". The description represents the two hour pool diameter in a 60°c melt point with most soy blend wax. This method allows the user to easily compare wick size and performance. This chart provides the candle maker a starting point for wick selection. Your wick selection will depend on wax blend, colour and fragrance additives.
*PLEASE NOTE, VESSEL DIAMETERS NOTED ABOVE ARE SUGGESTIONS ONLY. WE RECOMMEND USERS CONDUCT THEIR OWN WICK TESTS WITH EVERY DIFFERENT BLEND OF WAX AND OIL THAT THEY INTEND TO USE.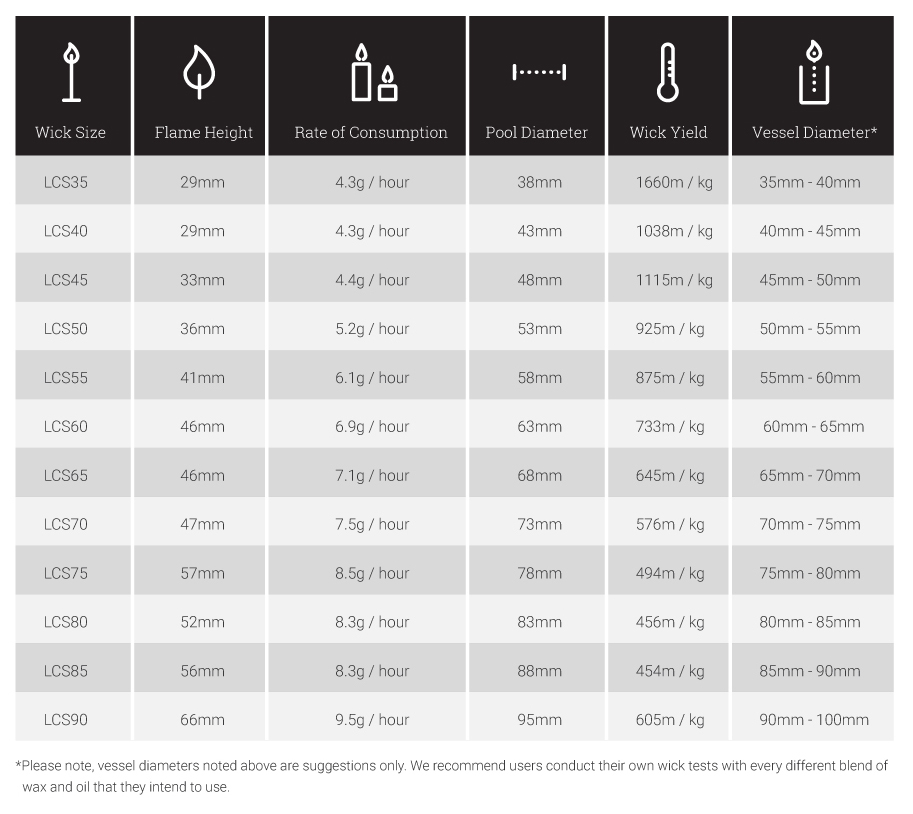 Download the printable Burn Rate Chart
If you have any questions, please do not hesitate to us.